In-depth
Ukrainian mobile operators brace for another winter with rolling blackouts
Russia will continue to shell energy infrastructure this winter, and in the event of powerful attacks, temporary blackouts are possible, believes Kyrylo Budanov, the chief of Ukrainian defence intelligence.
Energy companies are already protecting their facilities; air defence is being reinforced; and telecoms companies have purchased generators and batteries.
Last winter, Ukrainians suffered from communication problems. This year, however, telecom operators and internet providers have started preparing for possible blackouts in advance.
Tens of thousands of batteries and thousands of generators for communication nodes have been purchased, but it is impossible to provide each base station with a person to refuel them.
Liga.Tech found out how operators are strengthening the energy resilience of the network; what this means for customers; and whether Ukrainians will have to stay disconnected for hours in winter.
How operators prepare for blackouts
lifecell, one of Ukraine's three largest mobile phone operations, says it is now much more ready for blackouts compared to last year. The core network is equipped with new batteries, and key technical sites are equipped with generators, meaning that the majority of lifecell's customers will stay connected during power outages.
lifecell is constantly increasing the number of batteries and generators. Over the past six months, it has connected about 1,200 base stations to their own and partner generators, and over the year, thousands of capacious and durable lithium batteries have been installed, which can support a base station for up to four hours.
The mobile operator is also looking for alternative sources of power for base stations, with a pilot project of solar power already underway.  
lifecell also took note of a critique from the government's telecoms watchdog, the national commission for the state regulation of electronic communications. It had said that the operator was not ready to provide critical facilities with communication in the event of a three-day blackout. lifecell told Liga.Tech it was working to resolve those issues.
What millions of investments are spent on
Ukrtelecom, one of Ukraine's oldest telecoms operators, has now restored operation in almost 90 percent of the settlements where it had been before Russia's full-scale invasion last February.
During the blackout, Ukrtelecom will be able to keep providing services for 70 percent of its subscriber base, it told Liga.Tech in a statement. The entire infrastructure of the first and second categories—responsible for the continuity of communication services throughout the country and in regional and district centres—is reserved for diesel generator sets.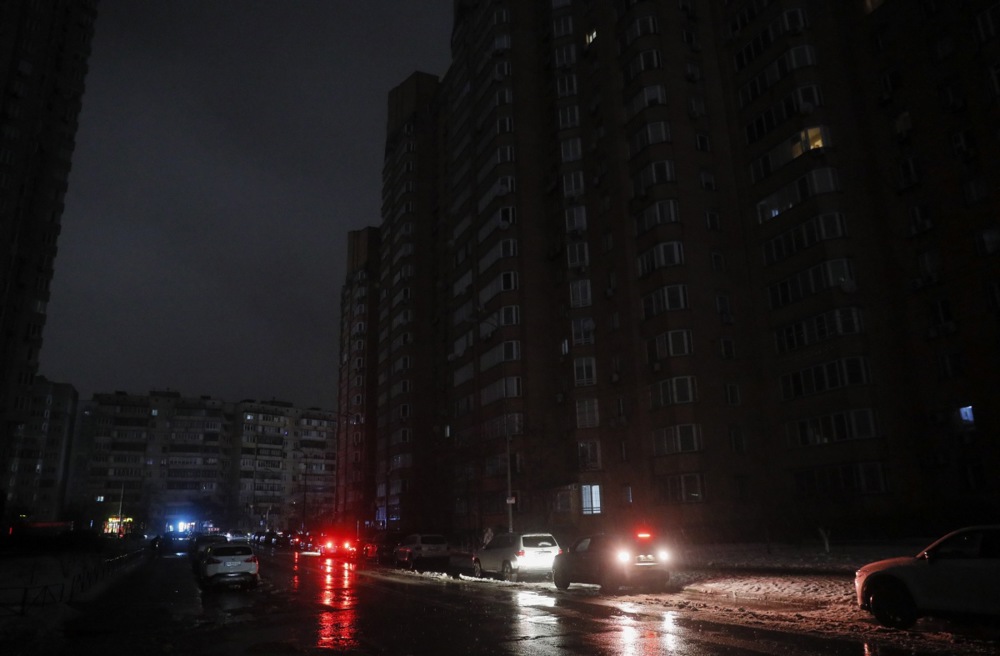 The available fuel reserves at those facilities would ensure autonomous operation for at least 96 hours for the first category nodes and 24 hours for the second category nodes. The third category nodes, where Ukrtelecom's customers' equipment is connected, are equipped with batteries that can operate for four to eight hours.
In addition, Ukrtelecom continues to invest in new diesel generators and fuel stocks, including oils and additives.
Since last February, Kyivstar has invested almost UAH 1 billion (USD 27.4 million) in energy independence, including almost UAH 700 million (USD 19.2 million) in energy sources for mobile base stations and UAH 300 million in the Home Internet network.
This year, the operator has installed 80,000 new batteries at its base stations, which will provide up to six hours of operation without power, and by the end of the year, there will have been 110,000 of them.
Kyivstar, a mobile phone and telecoms operator, has tripled the number of stationary and mobile diesel generators to ensure the operation of all critical network facilities. At the start of Russia's full-scale invasion, it had 700 such generators; now, 2,200.
And Vodafone, another mobile phone operator, has been preparing its network for possible blackouts since last winter. Compared to last year, its investments in the network increased by 75 percent.
This year, the company has invested about UAH 150 million in the energy resilience of its mobile network and a total of UAH 245 million in the resilience of its fixed network—and the figure is growing.
Vodafone has also purchased new high-capacity lithium-ion batteries, which are more or less sensitive to frequent power outages and charge 2.5-3 times faster than previous ones.
It has also installed more than 9,000 new high-capacity and lithium batteries at 2,255 sites, which provide an additional reserve capacity of 685,800 Ah. The company has almost quadrupled the number of base stations that will be powered by diesel generators.
What customers should expect
During the last winter, the lowest daily service availability at Vodafone base stations was approximately 84 percent. Those were the worst periods, which lasted only a few days in total, the company said.
If the situation in the energy sector remains the same as last winter—including rolling blackouts of up to four hours with six-hour intervals—Vodafone promises average daily network availability of 85 to 90 percent.
lifecell says that when the power goes out, the base stations switch to battery power, whose lifespan of up to four hours depends on a number of factors: the duration of the power outage in a particular area; location; and the number of active subscribers nearby and how intensively and simultaneously they load the network.
When the batteries run out of power, the only way to keep the base stations powered is to connect to a generator.  
"The network of any mobile operator was planned and built with the assumption that electricity would be the default. When it goes out on a large scale and for a long time, there is no magic solution," lifecell says.
To power just one base station during a lifecell blackout, up to 50 litres of diesel fuel per day is required, depending on the type of generator, and at least one person to refuel it regularly.
"lifecell has more than 9,000 such base stations across Ukraine, so one can calculate how many people are needed to keep them running on generators," the company adds.
The preference for autonomous power supply is given to switches and nodal technology sites to keep the operator's core network operational.  
Vodafone concurs.
"No operator can simultaneously deliver diesel generator sets to each site and refuel them in time on its own. In addition, many communication facilities are located on rooftops, where it is impossible to deliver and install a generator," it told Liga.Tech in a statement.
Although Vodafone equips all its communication facilities with backup power, batteries also have their own capacity and take a long time to recharge. If the power goes out repeatedly during the day, they simply will not have time to recharge, Vodafone adds.
The companies asked by Liga.Tech do not conceal the fact that the scale of the problem is much larger than the resources of a single operator.
"Providing subscribers with communication in the event of prolonged blackouts is a huge challenge, and we, as a mobile operator, are the first to be interested in solving it," lifecell says.
The company believes that this issue needs to be addressed by joint efforts of the government and all mobile and fixed-line operators.
"The support of Western partners, government agencies and cooperation with commercial entities that share access to autonomous power sources with us remains relevant," it adds.
To increase its coverage map and the availability of services in an emergency, Vodafone is engaging partners to share stationary diesel generator sets and calling on businesses to share generators with a capacity of 2 to 5 kW to provide connectivity for their business and other customers within the range of the base station.
What to take care of to ensure internet connectivity
The quality of communication is also affected by the load on the network. With a power outage, people switch from home internet to mobile internet en masse, leading to an avalanche-like increase in the load, Vodafone explains.
This results in slower speeds for each consumer and faster discharge of the base station batteries.  
"We recommend that one checks whether their fixed internet provider provides fixed internet access even during power outages," Vodafone says.
The company provides Vodafone Gigabit Net fixed internet using GPON technology. The company's networks are fully equipped with rechargeable batteries that can provide power for up to 24 hours.
"We have ready-made scenarios for connecting generators to ensure uninterrupted operation of Internet services in accordance with the decisions of the central government authorities, for 72 hours or more. Users only need to take care of power banks for their router and user device," Vodafone says.
In Kyivstar, 50,000 uninterruptible power supplies will ensure the functioning of at least 70 percent of its Home Internet network during potential blackouts. The operator is also testing GPON technology, which is more energy-independent, in a number of cities, and plans its commercial launch by the end of the year.
Lanet, a popular Ukrainian internet provider, says it is 100 percent prepared for possible power outages.
After Russia's massive missile attacks last year, Lanet focused on providing backup power for the network, optimising and upgrading it, using energy-saving options and scenarios for access layer switches, improving monitoring and statistics of the network status, and purchasing a "significant number" of mini-UPS for customers' routers.
Lanet told LIga.Tech it had installed diesel generators at the largest network nodes and worked out how to refuel them, and the battery life of medium-sized nodes had been increased to 24-48 hours.
Powerful batteries, 90 percent of which are lithium-iron-phosphate batteries, have been installed on smaller nodes of the network, which have significantly better efficiency compared to other devices. They can be fully charged in two hours, and their capacity has increased the minimum autonomy time of smaller nodes to eight hours and the average time to 14 hours, Lanet said.
The provider reminds that the customer must provide a backup power supply for the equipment in the apartment.
For Ethernet technology, the customer should connect a power bank to the home router, and for PON, a power bank or other uninterruptible power supply to the modem and router.
During the blackouts in autumn and winter last year, there was a rush for VDSL and ADSL connections among Ukrtelecom's Internet subscribers in Kyiv. The company had to use all its potential resources, including internal teams and contractors, to connect new customers in the most challenging conditions.
Ukrtelecom, does not rule out that the situation could happen again, but this year they are ready for it. "We have the experience and the safety margin," it tells Liga.Tech.